Upheaval in the market and banking system – mobile payment continues to take off, forecasts expect rapid expansion to become the second most important payment method. European development and market opportunities – in conversation with Frank Pawlak, Managing Director of mdv Dresden UG, he is convinced of the mobile payment system of Fintech Payment Solutions AG from Munich.
In recent months, every retailer has felt the change from stationary to digital trade. At the same time, businesses are grasping the enormity of economic global change – which goes beyond a temporary response to the worldwide coronavirus pandemic – through daily experiences. According to IBM's U.S. Retail Index, the epidemic has accelerated the transition from physical to digital stores by five years. E-commerce spending is expected to increase 20 percent this year alone. The young, innovative fintech industry is experiencing increased demand and the market is growing. Munich-based Fintech Payment Solutions AG, which develops and programs payment systems and invests in companies, is taking advantage of this growth. CEO Mirko Scheffler: "New, technology-driven business models, ideas and services are entering into serious competition – building on the massive technical progress of recent years – with existing market participants. Currently, there is a unique opportunity to profit from the innovative changes in the financial markets and their distribution channels. Fintech Payment Solutions AG is positioning itself more seriously in Europe as a strategic partner for investors in this segment."
Mirko Scheffler and Achim Pfeffer as board members of Fintech Payment Solutions AG in Munich have taken the helm at wee's payment solution. Mirko Scheffler, at the same time head of Luxembourg-based MPM Group AG, had overseen the Europe-wide development of wee's sales structure. Technical and legal problems delayed further development in recent times. Now Fintech Payment Solutions AG has taken over the technical capabilities and celebrated the kick-off of the second half of 2021 on July 10, 2021 in Dresden in the context of a larger event. Frank Pawlak, who is introducing wee to Fintech Payment Solutions AG in Dresden with his company, was also present.
How does wee work?
We are in conversation with Frank Pawlak, Managing Director of mdv Dresden UG, who is convinced of mobile payment with the wee solution convincingly active on the market. "Save money on every purchase with the wee card and the wee app, make contactless and fee-free payments and, as a local retailer, participate cost-effectively in the digital marketplace with customer loyalty through digital cashback, put in a nutshell," says Frank Pawlak. How does the wee payment platform work and what distinguishes wee from other cashback systems?
Frank Pawlak says: "wee is a bonus system that links many things to a card. The company is currently connecting more and more wee partners to its system, and the trend is upward. In the pedestrian zone, there is already a wide range of outlets, from cafés and music stores to service providers such as restaurants and craft businesses. More and more Spar fans are benefiting from the wee discounts."
All with one app – that's what wee promises as a payment platform. "Equipped with QR code technology, customers use one wee card or wee app instead of many different loyalty cards. Enthusiastically, one user told me she became aware of it because using it can also support charities. But many are excited because wee emphasizes support for local commerce," explains Frank Pawlak. wee works not only in stores, however, but also in online commerce, allowing users to save and support charity online as well. Frank Pawlak comments: "Over 1,000 online stores are already on the wee virtual marketplace, with new ones being added every day."
The wee-Marketplace offers a way to find all participating stores in the area at the touch of a button, both via the wee website and in the associated app. By showing and scanning the personal QR code, the amount saved is immediately credited to the user's personal wee account. "The collected wee can either be immediately offset, saved or paid out to the bank account. As soon as a wee partner launches a discount promotion, users learn about it via the marketplace and can benefit from it," explains Frank Pawlak.
What do merchants get out of the system?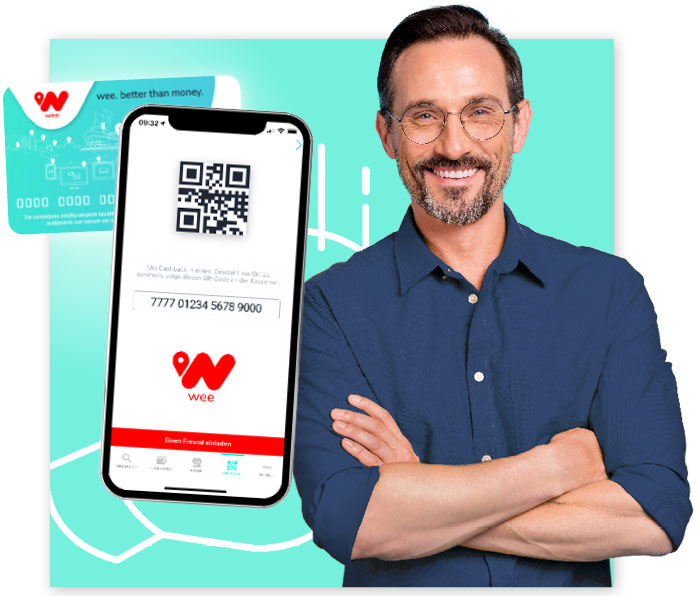 Frank Pawlak: "The merchants benefit from the system as they bind the customers to their business with the discount and the merchant's reach increases due to the listing in the wee-Marketplace. So it's possible for the merchant to both increase their audience and retain customers with little money, thus increasing profits."
Cashback is familiar to many, but often perceived as annoying because it is designed to be relatively costly and complicated to use. What's different with wee? "The idea behind the cashback system is to create a large shopping community. One card and one app for international use. The larger the community becomes, the greater benefits can be offered to the customer. Users are not credited with points or similar when they make a purchase, with which nothing can be done at first, but cashback is immediately provided in the form of wee's, which can be used or saved or paid out immediately. One wee corresponds to the value of one euro, which allows users to track their credit at a glance," explains Frank Pawlak in an interview.
Digital marketplace for local merchants – mobile payment with QR code technology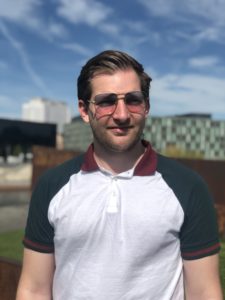 Experts agree that regardless of when the pandemic ends, the growth of e-commerce and the accompanying customer needs will continue. To keep up, companies must develop mobile payment systems that can handle the constant change. "While the economy remains unpredictable, one trend businesses can count on is the expansion of online and hybrid purchases. Consumers are looking more than ever for mobile solutions that offer them flexibility and security, and brands can't afford to wait for the storm to pass," says Mirko Scheffler, explaining the motivation for acquiring the wee payment platform to be a driver of market change with a simple and cost-effective fee structure and ease of use for all users (merchants and end customers).
The Fintech Payment Solutions AG uses the payment platform wee – Everything with an App – with it payments in stationary trade as well as in online trade and transactions between the participants are made possible without any problems, furthermore a cashback system is integrated. "The platform has been under development since 2015 and includes collaborations with an eMoney licensing institute, a KYC interface provider and a terminal manufacturer and operator. The weePay is based on QR code technology as a self-contained system and all transactions within this system are free of charge for customers," explains Mirko Scheffler.
Due to the developments around the "wee" the young company experiences a lot of headwind, the responsible persons need not only a firm stand but also a healthy constitution to place themselves successfully on the market with united forces. The chances are good, because the European regulatory system of supervision promises stability and technically secure solutions are available. B2B payment systems are still considered complex, especially when it comes to paying each other. One thing is certain: Digital development cannot be stopped, but there are still fears about security.
V.i.S.d.P.:
Max Bausch
Head of Marketing & Blogger
About the author:
Automation as a tool for simplifying work – The development remains exciting and challenging. Without automation nothing runs more, neither industry, handicraft nor the service. Generations X, Y and Z are completely digitized and the future is reshaping itself – boundaries are disappearing. Maximilian Bausch counts himself among the young native digitals with the idea of using automation across the board. He relies on the Future Workshop to overcome prejudices and fears of automation. To accompany thus the way for economy and efficiency of enterprises positively, by communication and discussion are taken up.
Contact:
Fintech Payment Solutions AG
Leopoldstrasse 244
80807 Munich
Germany
Phone: +49 (0) 89 21527758
E-mail: info@fps-ag.com
Web: www.fps-ag.com
Company Description:
Fintech Payment Solutions AG is an investor for investments in the areas of financial payment technologies. The focus of Fintech Payment Solutions AG develops and programs payment systems, participates in companies that develop and operate payment systems. The company has the experience and the required know-how in the areas of IT and software development, marketing and sales as well as M&A and investment management. Fintech Payment Solutions AG aims at active and long-term support of investments.
Press contact:
Fintech Payment Solutions AG
Leopoldstrasse 244
80807 Munich
Germany
Phone: +49 (0) 89 21527758
E-mail: info@fps-ag.com
Web: www.fps-ag.com